MAKE BEAUTIFUL HEIRLOOM HATPINS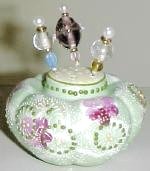 The hobby of collecting hatpins has been termed "hatpinology."
Generally speaking, collectors consider the era to be 1850-1920
and extended through pre World War II.
During the late 1820's, a machine was developed for making and heading pins. It was patented in the United States in 1831 and in England and France in the two years following. A team of 10 men could produce 48,000 pins a day with the aid of the machine. Prior to the machine, a skilled pinner could hand wrought 20 pins a day.
It is interesting to note that the term "pin money" goes back centuries to the handmade, expensive pins, and to the custom of giving a lady a gift of money for the purchase of pins.


Hat Pins and Clutches
Straight 6" Solid Nickel Silver Hatpins (without Heads) @ $3.75 dozen
Straight 6" Solid Brass Hatpins (without Heads) @ $3.00 dozen

---
Hatpin Clutches with Rubber Insert
Nickel Silver @ $3.00 dozen
Brass @ $3.75 dozen

---
2 mm Ribbed Gold Crimp Beads (Pkg. 100) @ $1.75
2 mm Ribbed Silver Crimp Beads (Pkg. 100) @ $1.75
---



G-S Hypo Tube (Watch Crystal) Cement
.33 oz. with precision tip, strong secure and quick to dry
Perfect for bead work . . . $3.90 each
---


Brass Rondells
4mm solid brass rondells (ideal accent and spacer beads, see hatpin/stickpins above)
4mm solid brass rondells (16" strand) $9.50
4mm silver rondells (16" strand) $10.50
---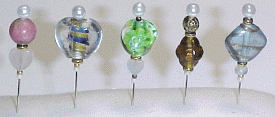 ABOVE HATPINS MADE ON 2-1/2" CORSAGE PINS
(WITH ROUND PEARL HEADS)


Corsage Pins 2-1/2" One Dozen @ .50
(ROUND PEARL HEAD)
---

2-1/2" Corsage Pins. For a 'vintage' look, the pearl head has been removed (use pliers).
Some beads are from our 'Glass Bead' mix, others are semiprecious stones, and brass.
---



HANDMADE (LAMPWORK) GLASS BEADS



Assorted Glass Beads (12 per pkg.) $2.90 ea. pkg.
6 or more packages at $2.75 ea. package!

SUPER ECONOMY PACKAGE 144 Glass Beads (12 dozen) $31.50

CLICK HERE TO SEE LARGE ASSORTMENT


SHOWN BELOW IS A RANDOM REPRESENTATION OF PACKAGES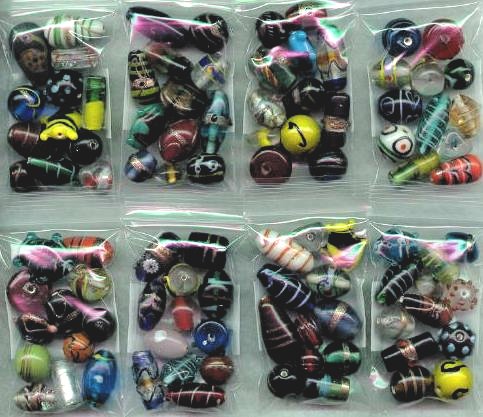 More Handmade Lampwork Glass Beads
Site by Encore Web Design


Established Online 1996
© 1996-2002 The Bead Link. All rights reserved.