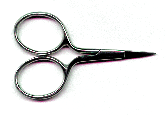 ACTUAL SIZE AS SHOWN 2-1/2"

GREAT VALUE AT $3.90
Click here to see an enlarged photo showing high quality

High Quality Stainless Steel Scissors

Perfect for all crafts and needlework including:
Beading - Handwork - Embroidery - Quilting
Needlepoint - Smocking - Knitting - Crochet
---

These 'sharp' little scissors feel so good in your hand
(left or right hand) 'perfect' thread nippers, and they
are ideal for a Beaded Scissors Tassel!

The 'quality' is incredible at this price! $3.90



CLICK HERE FOR FREE DIRECTIONS TO MAKE A

BEADED SCISSORS TASSEL


Established Online 1996
© 1996-2002 The Bead Link. All rights reserved.