INSPIRED BY BUDDHIST PRAYER BEADS
THE HOTTEST BEAD ITEM FOR THE MILLENNIUM!
Many centuries ago spiritual researchers found that certain stones possessed different powers. The Language of Stones describes various semiprecious stone properties. When these stones are worn, it is said, they emanate their powers to the wearer.
Power Bracelets were inspired by Buddhist prayer beads. Buddhists use mala beads to count prayers, like the rosary beads used by Catholics.
The Power Bracelets are made of semiprecious stones because of their inherent powers.
Our power bracelets are 'genuine' semiprecious stones.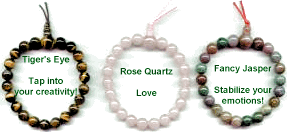 Hematite - Anti-Depression
Rose Quartz - Love
Aventurine - Success
Jasper - Stabilizes emotions
Black Onyx - Protection from negativity
Tiger's Eye - Creativity
Carnelian - Energy, physical power, & courage
Clear Quartz Crystal - Good health & balance
Amethyst - Intelligence
FOR MORE INFORMATION ON STONE PROPERTIES CLICK HERE

Hematite $3.50 - Rose Quartz $4.50
Dark Aventurine $5.50 - Fancy Jasper $5.50
Black Onyx $6.50 - Tiger's Eye $6.50
Carnelian $7.50. - Clear Quartz Crystal $7.50
Amethyst $9.50
2002 Special -20%


Established Online 1996
© 1996-2002 The Bead Link. All rights reserved.