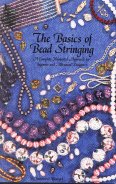 THE BASICS OF BEAD STRINGING, Genevieve Bourget
The techniques, tools and supplies required are laid out in good drawings and photographs. A complete illustrated approach for beginner and advanced designers. Informative and inspiring.
5-1/2x8-1/2" paper with 8 of 64 pages in color
$6.50


Established Online 1996
© 1996-2002 The Bead Link. All rights reserved.